Today we're excited to announce an update to Skyteller that makes off-ramping even faster and easier. You can now cash out crypto instantly from your wallet to USD in your bank - no smart contract needed!
We added the ability to directly off-ramp with Skyteller because sometimes deploying a smart contract can cost too much in gas and not everyone needs all the features it enables. By allowing people to cash out their crypto instantly from their wallet, we're offering a more accessible, easy, and less costly off-ramping option.
**Off-ramping with Skyteller has never been more simple **We're excited to announce that Skyteller is now in Alpha, and we can't wait for you to try it out.
Tired of multiple swaps, complicated fees, and cumbersome steps to cash out your crypto? Say no more, because Skyteller is the off-ramp we all deserve!

Join the waitlist to get early access!
Skyteller gives your bank account an ETH Address so you can easily cash out your crypto. Whether you need to buy tacos for dinner or want to cash out some of your gains to cover taxes, you can now just send crypto from your wallet and have it show up as fiat in your bank.
We're excited for you to try Skyteller because:
💡 Skyteller is simple and straightforward.

🔐 Skyteller is a smart contract that you deploy and control, because of that, it's secure and safe. Nobody else can manage or update it… not even us!

💸 Once you set up your smart contract, you can have anyone send crypto to your new Skyteller ETH address and it'll be ready for you to cash out whenever you want.

😎 You get to pick your own unique Skyteller name where people can send you crypto and have it easily become cash. It feels like magic!

🤓 Skyteller is composable! Once you set it up, you have your own building block that can turn crypto to cash whenever you want.
So, if you're tired of off-ramps making you feel like you're stuck, join the waitlist for early access! We're letting folks in every day and want your feedback so we can make using your crypto IRL simple and easy.
Join the waitlist to get early access!
If you're new to Skyteller, you can start by going to skyteller.xyz and follow these simple steps to turn your crypto into cash, quickly and easily. 
Connect your wallet to sign in up

Verify your identity and connect your bank

Enter the token and amount you want to cash out 

Click 'Send to bank' and confirm your transaction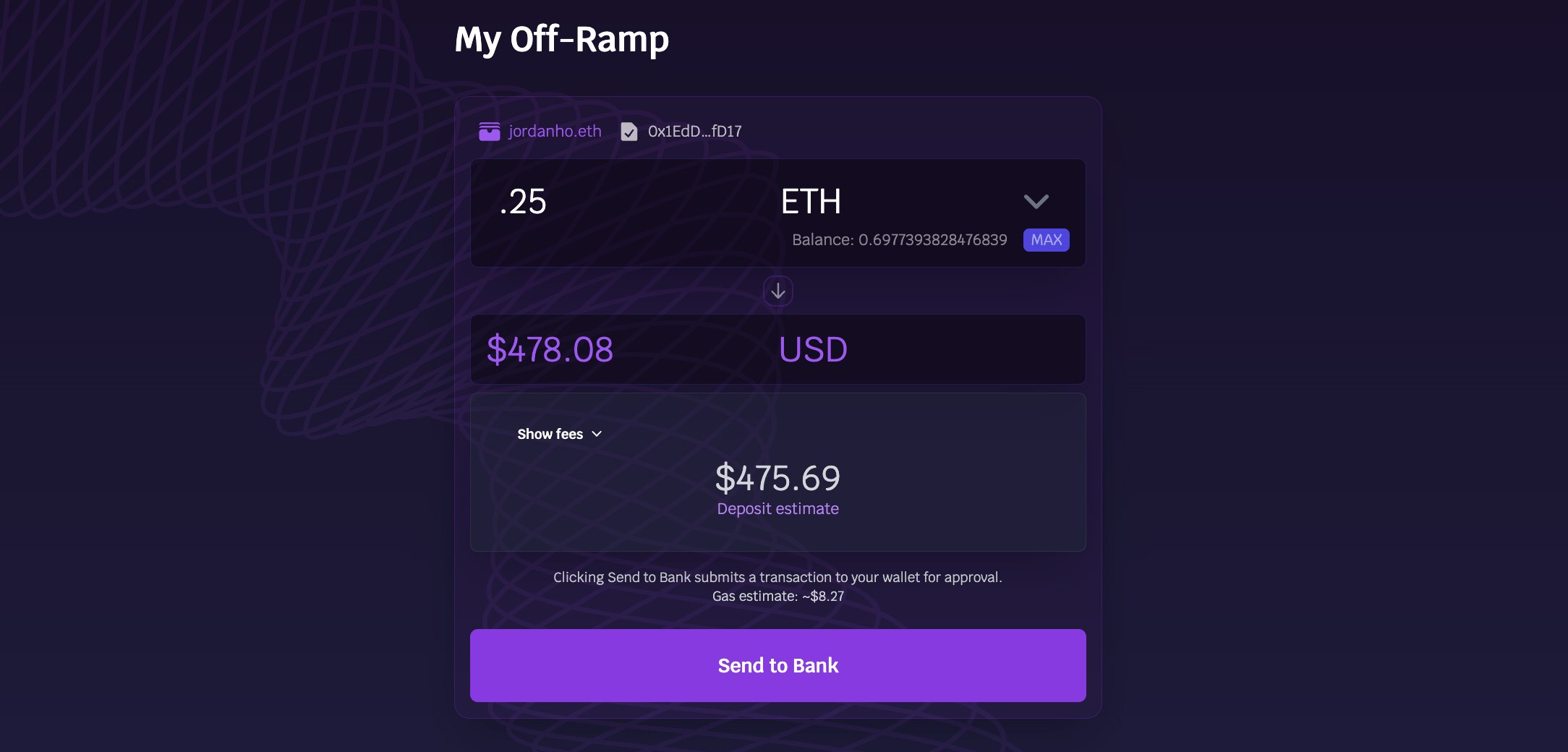 Visit the redesigned Skyteller to see the new user experience
Users can still deploy a custom smart contract to get a personal off-ramp with more features like its own address, composability, and even more on the way. 
If you've previously off-ramped using your Skyteller off-ramp, just sign in to Skyteller and you're ready to go. You'll see the new experience and can switch between off-ramping directly from your wallet or your smart contract.
Give our one-click off-ramp a try! If you have any questions or feedback on these updates, reach out to our team on Discord.